INTERVIEW "SVEGLIA VENETI"
---
Sole24Ore News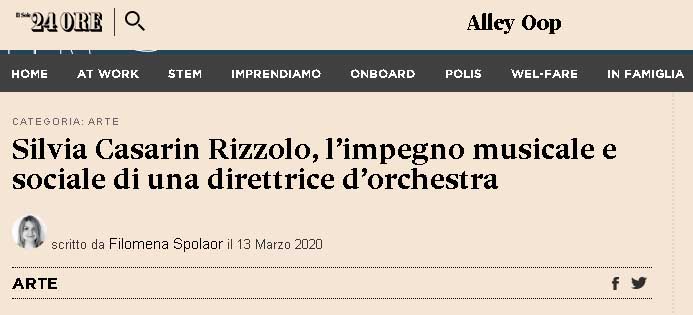 Opera: Beethoven IX Symphony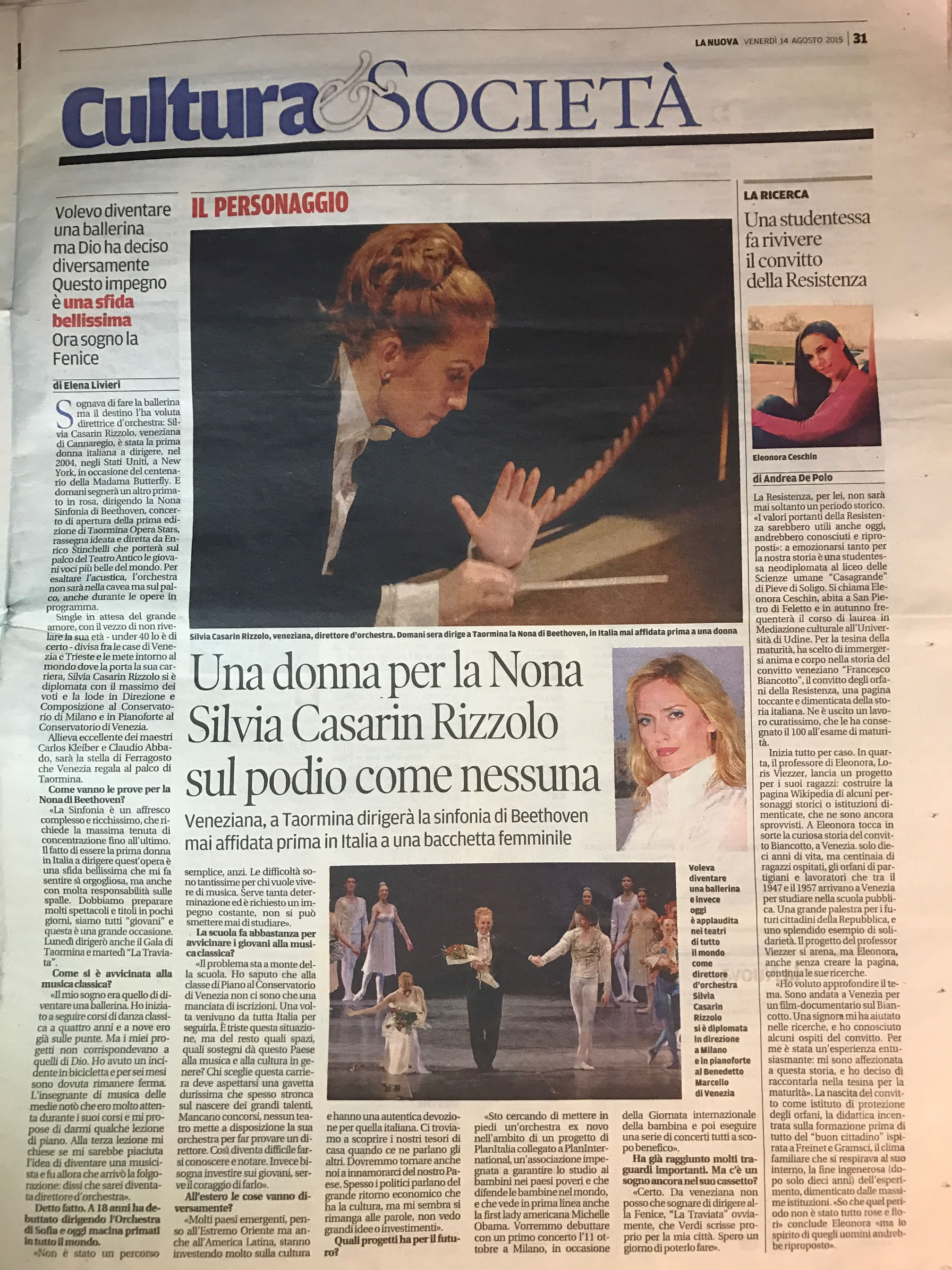 Metropolitan Orchestra, Bari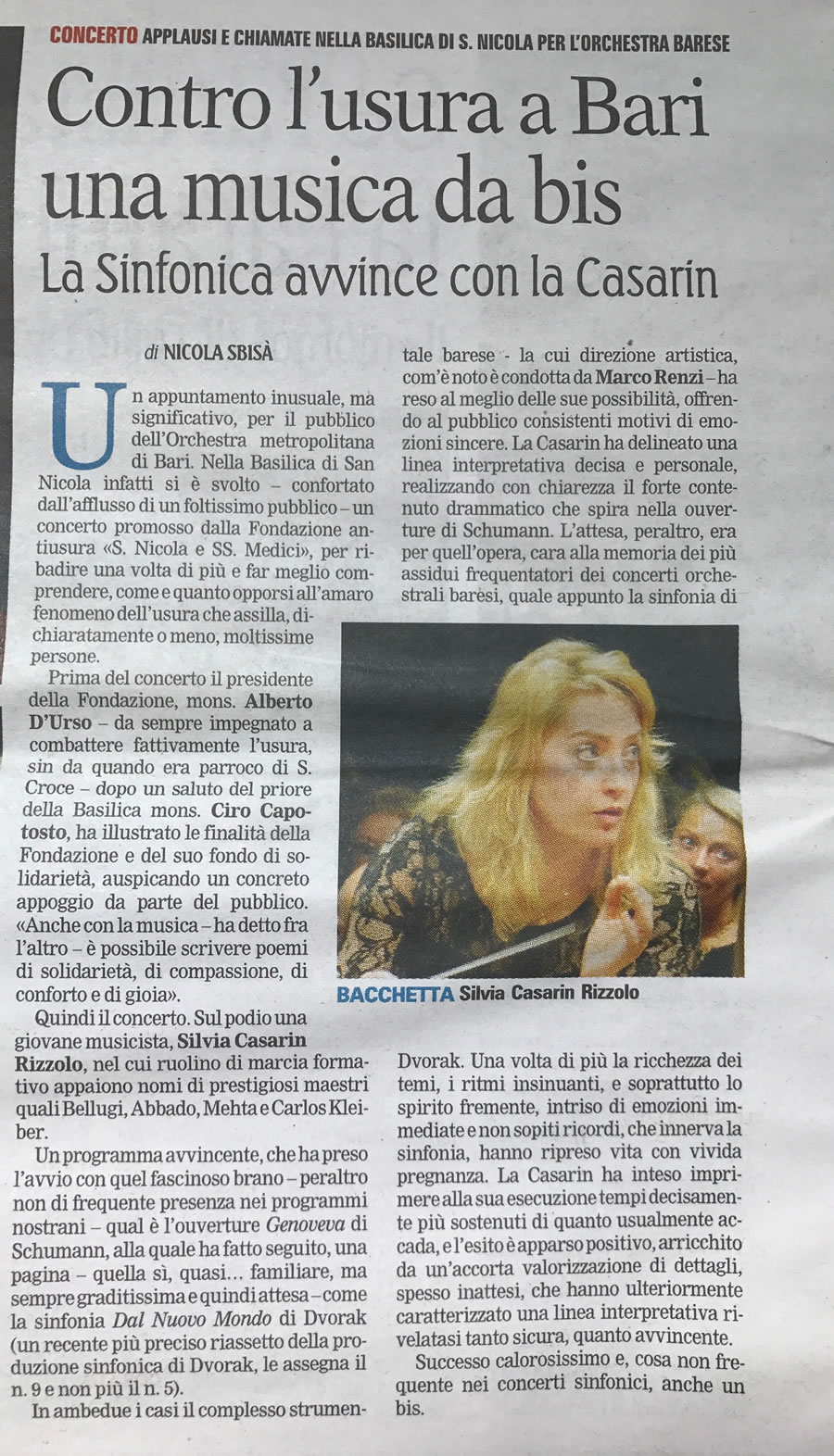 ChamberOrchestra4U, La Fenice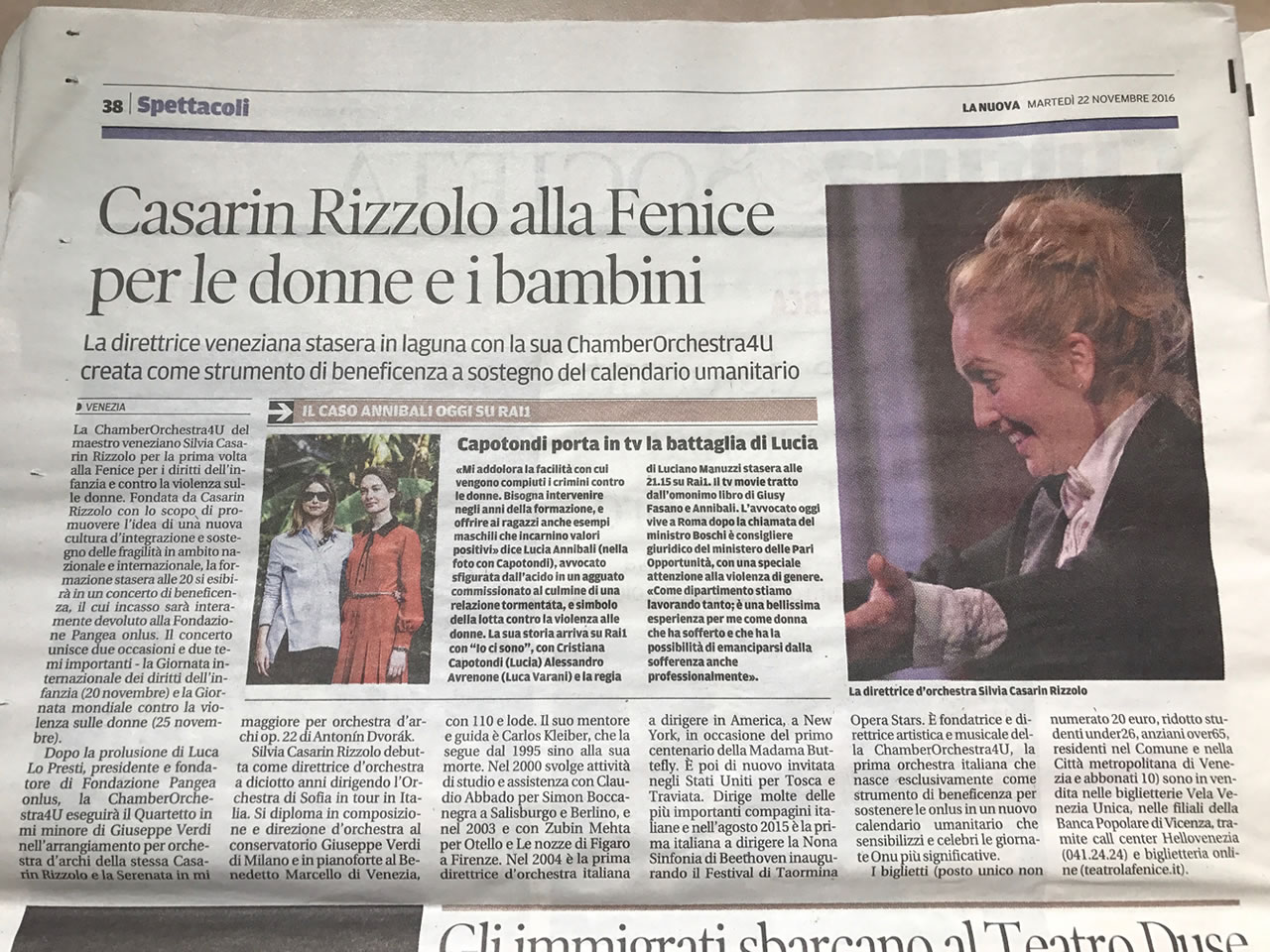 Opera: Elisir D'Amore Donizzetti
"The brilliant Ouverture, under the direction of Michele Mirabella, which was put on stage last Friday and Sunday at the Coccia Theatre within its opera season, announced the confident and precise lead of the dramma giocoso by the excellent Silvia Casarin Rizzolo"
L'Azione, Novara

"The Carlo Coccia orchestra is conducted by Silvia Casarin Rizzolo, who does a lot of good especially to singers: she allows the right timing to narration".
Corriere di Novara

"An amusing and pleasant show indeed, rich in colour and scene changes, appreciated by the people of Novara and conducted by the punctual Silvia Casarin Rizzolo leading the Coccia Orchestra".
Novara Oggi
NYCity Opera
"Maestro Casarin Rizzolo is an outstanding talent. She has solid technique, excellent musicianship and a deep uderstanding of all forms of opera and its traditions. In addition, Silvia is a charming and gracious colleague".
Michael Capasso, General Manager of NYCity Opera.
My Maestro
"Adorable Artist"
M°Carlos Kleiber
Opera: Requiem, Mozart
"Silvia Casarin Rizzolo conducts the Strehler Orchestra and the Complesso Internazionale (the International Group) performing Mozart Requiem: she is a young conductor who is working both with grace and wisdom, she approached Mozart with Abbado in Salzburg and here she successfully applies his valuable teaching."
Gian Mario Benzing,Corriere della Sera

"Maestro Casarin RIzzolo is a very gifted musitian with a very solid background and with a very special talent for conducting. Her remarkable temperament together with a very clear conducting technique let forsee for her a very brilliant future".
M° Piero Bellugi
Opera: Lo Schiaccianoci, Tchaikovsky
"The return of the Moscow Ballet La Classique at the Politeama Theatre of Trieste with "The Nutcracker" has been an episode of pure and playful poetry. This year too the conductor of the Coccia Theatre Orchestra of Novara was Maestro Silvia Casarin Rizzolo. The young director from Venice showed particular care in the elegance of musical phrasing and sound, but also in keeping concentration on the interpretation of the score, endowing it in several moments with such intensity as to put music in the foreground instead of dance".
Maria Cristina Vilardo, Il Piccolo di Trieste.
Opera: Vedova Allegra, Lehar
"Vedova allegra by Lehar has been on the billboard of the San Babila theatre of Milan for 18 consecutive sold out shows...The 28 elements orchestra has been wonderfully conducted by Maestro Silvia Casarin Rizzolo"
Silvia Arosio, Cernusco News Milano
Bastiano e Bastiana Mozart
and Orchestra Regionale Toscana
"The ORT (Regional Orchestra of Tuscany) and schools carried out an excellent operation increasing the number of subscriptions by 500 with Bastiano and Bastiana by Mozart...the conductor was Maestro Silvia Casarin Rizzolo, who was applauded in Milan several times, invited to the Maggio Musicale Fiorentino and highly appreciated at Palazzo Pitti recently within the Maggio Arte summer festival".
Il Giornale, Firenze.